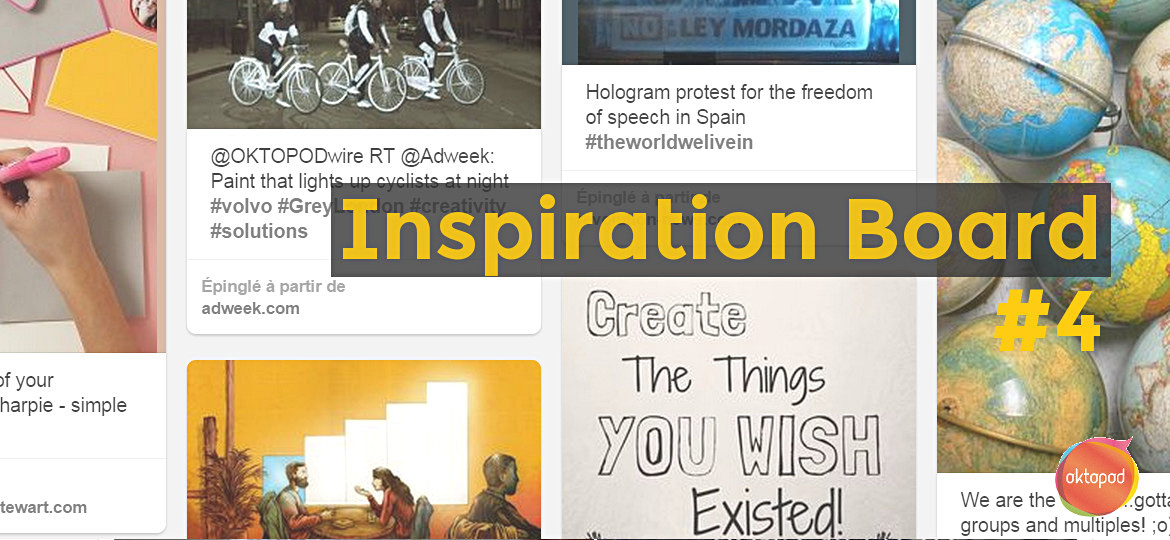 Here it comes, our "Inspiration Board" #4 .
A tiny part of what has inspired us this month,
– A quote that invites to action : "Create the things you wish existed". Why wait?
– He did not want to wait : The music made room for itself in a slum in Paraguay thanks to a teacher obstination. With his students they use trash to build their music instruments. And they travel the world with them. (EN/ES)
– A book : The Third Alternative by Stephen R. Covey. There are plenty of alternatives to explore between YES and NO.
– A witty project in England : Soon a café that will automatically disconect your cell phone when you walk in? That might restart conversations! #Unplug
– Spain: holograms protesting in the street. How to voice your disagremment without taking the risk to be arrested on a random basis.
– #innovation : Volvo develops paint that lights up cyclists at night.
–  A twitt @OKTOPODwire : Creativity is maximised when you are living in the moment. A nice invite to practice mindfulness.
– Because they're not often quoted: Physics, chemistry, litterature, peace….The list of the 46  Nobel Prize Awarded Women.
– A collection of colorfoul globes to keep the need to travel warm (and light up the room decoration)
last but not least :
– A super simple DYI to  awaken boring enveloppes.
Yes, right, it needs to make some time for it. But do you realise the awe it creates?
We wish you a nice visit of our « Inspiration Board #4 ». If you feel inspired, please do not hesitate to drop a comment and share from our FB page or form our Twitter @OKTOPODwire
All Inspiration Boards here: